337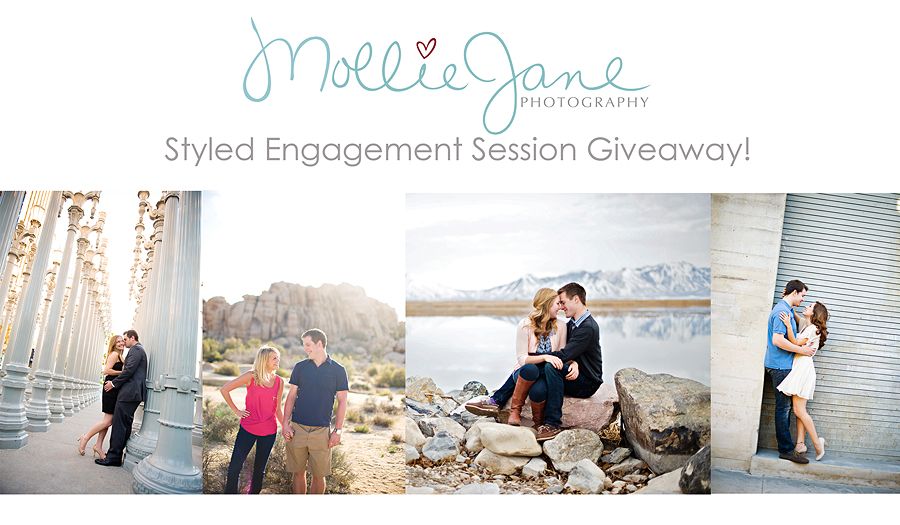 The winner will receive a Free Engagement Session worth OVER $1000 which includes:
- 2 hour session at location of choice
- 10 Artistically Edited Digital Negatives

- Personalized disc of all high-resolution images for your own reproduction
- 16×20 print of their favorite image
- Private online viewing gallery
The winner is also getting a Free Makeup sitting for their session!
- by Fuse Hair and Beauty

The winner will ALSO receive Free Styling for their session!
How to enter?

It is super easy! You do have to be engaged :) And willing and able to do your session in the Inland Empire or Orange County areas. If that sounds like you, then send in your favorite picture of the two of you to info@molliejanephotography.com. And include your first and last name in the email.
I will then put the image on my Facebook page in the album "Engagement Giveaway" And then you can send all of your family and friends there to "like" it. (They do have to become a fan of the Mollie Jane Photography Facebook page in order to vote for your picture.)
Voting will continue until March 13th!

How to Win!
At this point the top 3 vote getter will be "finalists". At this point I will have you guys send me your "love story" and why you guys would love an engagement session by Mollie Jane Photography. I encourage you to send more pictures and I will put them on Facebook with a link back to the blog where they can find your love stories and I will open it up to voting on Facebook AND the blog. The couple with the most votes WINS!

It's going to be so much fun!!! I LOVE love stories!!
The winner will be announced MARCH 25th, on my parents' 49th wedding anniversary.
BONUS!!!
All entries will receive at $100 off my engagement session packages. If you choose to book Mollie Jane Photography for your wedding you will receive a Deluxe Sign-In book (so beautiful!).
GOOD LUCK!!!!